Google Analytics 4 is different from the old GA because the analysis that you do are based on the user experience and on the engagement of the users, in technical terms this means that you analyse the "event" that occur on your website: click on links, scrolls, signups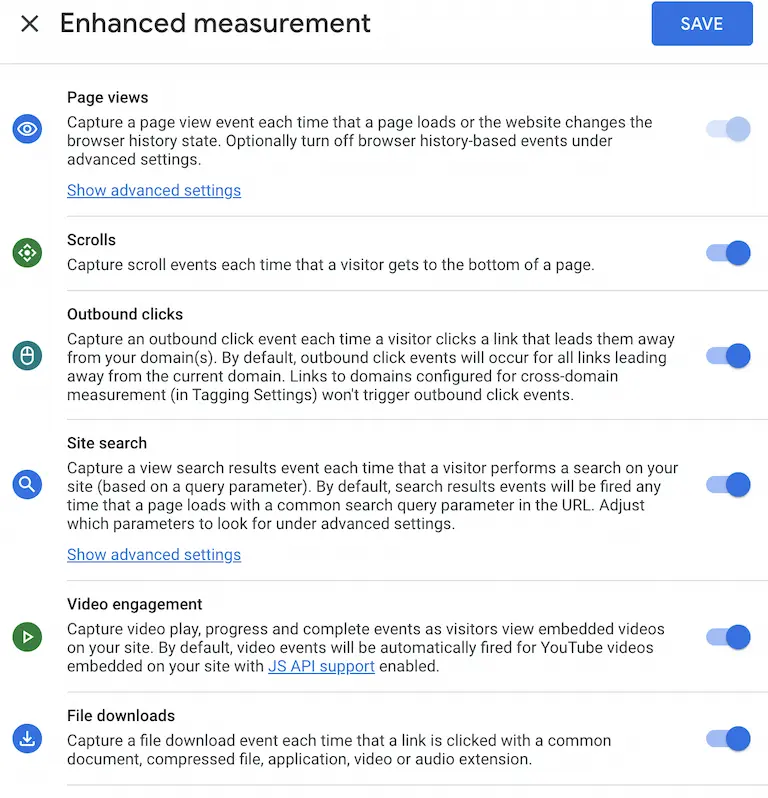 Google Analytics 4 engagement metrics
Page views: Capture a page view event each time that a page loads or the website changes the browser history state.
Scrolls Capture scroll events each time that a visitor gets to the bottom of a page.
Outbound clicks: Capture an outbound click event each time a visitor clicks a link that leads them away from your domain(s). By default, outbound click events will occur for all links leading away from the current domain.
Site search: Capture a view search results event each time that a visitor performs a search on your site (based on a query parameter). By default, search results events will be fired any time that a page loads with a common search query parameter in the URL.
Video engagement Capture video play, progress and complete events as visitors view embedded videos on your site. By default, video events will be automatically fired for YouTube videos embedded on your site with JS API support enabled.get_appFile
Downloads Capture a file download event each time that a link is clicked with a common document, compressed file, application, video or audio extension.
Configuration
In Google Analytics 4 you need to insert 2 codes to your website: the Measurement ID (G-XXXXXXXXXX) and the Measurement Protocol API Secret, this second one you need it to send e-commerce events to GA4. You find this configurations options in Google Analytics Setting (the Cog icon)