We live in a world where our customers are one click away from our competitors. This is one of the results for the digitisation of fashion retail.
Today customers can leverage a high level of information immediately accessible from laptops or mobile phones and this allow the customers to choose the best price for a product or the seller that offers the best service e.g. free return for longer periods.
Customers developed the habit of comparing the price of a product between a retail store and the official website of a brand, while they are physically in the shop.
These changes in the customers behaviours and in the technological landscape have reshaped the way brands should approach the customers: the go to market strategy.
In this article we look at the upcoming trends in digital marketing: such as the consumers' behaviour analysis and the omnichannel approach.
These new marketing approaches are essential today to meet customers's expectations, to acquire new customers to retail them.
Finally we look at the technologies that allow fashion companies to understand who their real customers are and how to engage them.
Definition of Customer Experience
The customer journey is the complete sum of experiences that customers go through when interacting with your company and brand. Instead of looking at just a part of a transaction or experience, the customer journey documents the full experience of being a customer.

www.surveymonkey.com
However we like to look at the customer journey as part of the scope of Customer Experience (CX)
Customer Experience management is the governance of all customer touch points that aims at delivering a seamless user experience and maximisation of conversion, profitability and customer retention

Digital Fashion Academy
Instead of looking at just a part of a transaction or experience, the
customer journey documents the full experience of being a customer, this can be represented in form of a map:
A customer journey map is a visualization of the process that a person goes through in order to accomplish a goal. It's used for understanding and addressing customer needs and pain points"

Nielsen Norman Group
Customer Experience Implementation
Analysis of the omnichannel customer journey
Organisational impacts and changes required to reach the goals
Financial Analysis, Return on Investment and Profit & Loss of the project
Omnichannel approach: all channel should be included in the analysis
Full marketing funnel coverage: from acquisition to retention
KPIs proposal to measure and monitor results and performance
Marketing plan to support the project
Implementation plan divided into phases
Omnichannel Customer Journey analysis
Analyse all the touchpoints involved in the customer journey, both physical and digital, throughout the main phases of customer acquisition and retention, the participants will have to provide with a vision of customer experience that will drive growth for the next years.
What is omnichannel?
Communication: ensure delivery of consistent messages via multiple channels and devices
Services: ability to follow the customer journey across devices and channels without barriers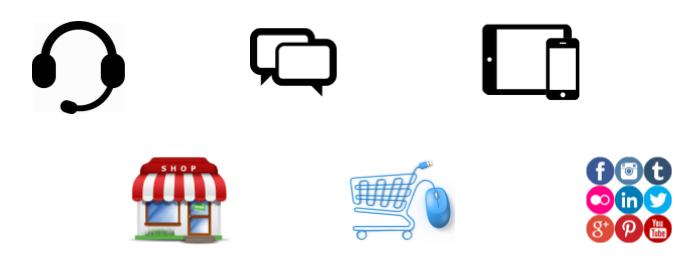 Sales: leverage of the widest choice of products and services available to exceed customer expectations and maximize transactions
In the last few years marketing tools have evolved significantly, some fashion brands managed to leverage these new technologies, they adopted them and implemented new marketing processes. The companies who are able to leverage data insights will also be more competitive in the data driven competitive environments.
This process of modernizing fashion processes by creating a roadmap of changes and projects to implement is also called digital transformation, which includes also the focus on understanding and designing the customer journey and the customer experience more in general. In a compound word we call it digital-first.
In a customer journey analysis, firms focus on how customers interact with multiple touch points, moving through the digital marketing funnel from consideration to purchase, to loyalty and finally advocacy.
The customer journey
In order to understand the customer journey first we need to be aware that it's a non-linear process, therefore fashion brands need to concentrate on understanding their clients behaviour and motivations, rather than trying to create the journey they have in mind. The real journeys of the customer can be very different from what the company has envisaged them to be.
The second thing we need to consider is that customers use both physical and digital touchpoints at the same time, it doesn't make any more sense to distinguish between them. The acronym ROPO is an example, which means Research Online Purchase Offline: the client will research on the internet the information she needs and then will purchase the product in a bricks-and-mortar store.
The third rule is that we need to try as much as possible to satisfy customer expectations within the channel of preference of the customer. This means that if the customer is on a social channel we need to try to respond and satisfy the customer needs on that channel and not try to push the customer on another channel because it is preferred by the brand.
Learn more and earn a Professional Certificate
Fashion E-commerce Management Course
Fast track your career in digital fashion and acquire the skills you need to work in the contemporary fashion industry.
Learn from senior experts from world class fashion and luxury brands.

In-channel communication and conversions
Many fashion companies think they che answer to followers on social media saying things like "Please write us an email using the contact us section on our website". This is a disruption of the user experience and an imposition of the customer journey designed by the brand to respond to the company needs and not to the customer expectations. The customer expectation is that the brand would reply "in-channel" while the company is trying to take the user out of his channel to bring him/her onto the brand's website. This is not a good example of customer experience.
The second example is a customer who goes into a store to buy a dress and uses her mobile phone to show the sales assistant which product she's interested in. The customer has previously researched and save a product on the brand's website and now she takes the image and product code with her to the store to try it on.
55% of sales in Europe are influenced by a digital touchpoint even if only 17% of sales are completed online. Data is reported from forristal Forrester data digital influenced retail sales forecast 2017-2022
Customers are also expecting a seamless experience between the physical and the digital world as demonstrated by 62% of British adults who think that it is important that retailers show online the real-time availability of the bricks & mortar stores. This is important when a customer wants to browse online a product that will then purchase in the store nearby, the customer wants to make sure that the product she is looking for will be available in the store when she physically goes there to try it and buy it. This process is also called reserve in store when a customer can check the availability of a product from online into the store and then book the product in the store to go there and try it and buy it.
For more information you can also check out "the state of retailing online 2019""
The opposite scenario is when a customer goes to the store to try on a product that he will then buy online, in this case the physical store is used as a touchpoint to gather information on the product while the purchase will be completed on other channels either for conveniency or or for other reasons for example the customer may find a more competitive price online. This model is also called showrooming and it's the model on which some fashion brands are running today, an example being Bonobos https://bonobos.com/ but also Zara has implemented corners in their shop with products customers can try on and buy only via ecommerce.
In addition to these channels we need to consider also the social media which have become more and more important for consumers who utilize both official and non-official channels in order to gather formation on the brands and on the products. In many cases the non-official channels are preferred by the customers when looking at reviews or opinions of other customers who purchased the same product.
as you can see the journeys from Information to purchase at a multitude, non-linear and across multiple channels.
Brand-owned touch points. These touch points are customer interactions during the experience that are designed and managed by the brand. They include all brand owned media such as the brand's website or the social channels created by the brand and managed by the brand. For fashion brands also the product packaging, the visual merchandising in stores, digital communication elements in store, fashion events and newsletters are core communication channels owned by the brand.
Partner-owned touch points. These touch points are customer interactions during the experience that are jointly designed, managed, or controlled by the brand and one or more of its partners. Partners can include franchisee, department stores, etailers, distributors, co-branded loyalty programs, co-branded products.
Lemon K.N, Verhoef P.C. (2016), «Understanding Customer Experience
Throughout the Customer Journey», Journal of Marketing, 80: 69-96
https://www.lettere.uniroma1.it/sites/default/files/1119/Fashion_%26Consumer_experience_CJM_0.pdf
In order to understand and design all the possible customer journeys fashion companies can create customer journey maps cjm.
The fundamental idea behind Customer Journey Mapping CJM is relatively simple; it is a visual representation of the sequence of events and touch points through which customers may interact with a fashion brand and its products during the digital marketing funnel.
CJM lists all possible organizational touchpoints both Physical and Digital.
By clearly understanding customer touchpoints and the needs of the customer at each interaction with the brand, fashion companies can engage all the necessary functions within the organization to interact with the prospect or customer in the correct way to meet or exceed the customer expectations: digital marketing and social media managers, customer service managers and operators, online sales assistants and ecommerce managers, store managers, district managers, Information Technology and potentially also other functions.
In the figure below an example of customer journey:
a prospect gets in contact with the brand/product thanks to an advertising campaign
then interact with the brand on a social channel
Browser the product catalog on the official brand website
Purchases a product in a bricks and mortar store
Contacts the customer service using the official page for example on facebook
Finally asks for more information via telephone to the Customer Service
Ecommerce User Experience and Customer Experience
How do we create a website that is graphically appealing modern fresh looking and very easy to use.
web design for e-commerce is not as much a matter of creativity as such, but it's more the result of good organisation of information, well done quality images, proper use of text in titles headings and paragraphs to make constant legible and finally good organisation of all these elements within the page and and in relation to themselves creating the right links from one page to the next.
E-commerce design is more about allowing customers to find what they are looking for easily and and to allow them to browse and look at as many products as possible as if they wear in a commercial centre or shop.
If we make an analogy with bricks & mortar department stores, customers of department stores know where to find products or or they can use the signs that are available near the entrance of a store or near the elevators and stairs that indicates where to find specific brands and product categories.
The same happens online, so when we are building an online store we have to think of the functionality and how the customer will find the product we are selling.
Product catalogues are usually organised in taxonomies, at economy is that your article organisation of product information, from top category down to the single item. are ready to wear company could organise their taxonomy in men and women and children and then, for age of this item there will be a number of second level categories like dresses jackets tops shirts shoes and other accessories, within dresses there could be long dresses short dresses long sleeves dresses and short sleeves dresses, underneath jackets category there could be leather jackets nylon jackets, Parkers, bombers and so on.
After deciding which products to put on sale on our website, and how to organize them into categories we need now to digitize them which means to transform them from physical products. Ecommerce professionals say that 'we don't sell products online, we sell images'. I'd like to add that we sell images with the help of descriptions. In order to represent correctly a product online, and in order to provide the customers with the correct amount of information that they need to make their choice and to order the right product online, we need to provide the users of our website with a set of information that is quite extensive.
Once you are done creating all the information, you'll need to collect it all and upload it onto an e-commerce platform. Usually, before uploading the product descriptions and assets onto the ecommerce platform, these pieces of information are collected into a system that specialises in the management of images and descriptions.
These systems are usually called PIM which stands for Product Information Management system or DAM which stands for Digital Asset Management Systems. These systems allow many people to collaborate from different departments inside and outside of the company to collaborate towards the creation of the full set of product information, these systems will also transfer the assets and product data to the commerce platform for publication on the website.
Here below is a list of information that you need to provide to your users if you're selling fashion items online:
Photos of your product: up to 10 photos;
Description of the fabric and material of the product;
Description of the fit of the product;
description of the size of the product and conversion table
editorial description or emotional description of the product
washing and care instructions
information about returning the product in case is not suitable
cost of shipping and time of delivery
Translations
optional video
optional images from social network and other uses
optional reviews of the product by other customers.
2000 > Fashion E-commerce is born: Gucci and Yoox launch their e-commerce websites; 2019 > Digital Media Spend surpasses the traditional media in US
FAQs
What is Fashion Omnichannel Customer Journey?
Omnichannel customer journey is the the management of the experience across multiple touch points including Social Networks, Brand website, customer service, bricks & mortar touch points. Through the governance of the Customer Experience we ensure a consistent and seamless experience across all channels managed directly by the brand.
How can brands create a seamless customer journey?
There are three steps to create a customer journey: 1) Analyze and define all possible user journeys; 2) Select the user journeys to govern and make consistent; 3) Remove the organizational barriers (silos) that prevent the implementation of the omnichannel customer journey.
What is customer journey mapping
Customer Journey mapping is the analysis of all touch-points that constitutes a point of contact between the brand and the customer along all the phases of the marketing funnel.

What's your company's Digital Transformation status?
Find out in less than 5 minutes with our free digital transformation assessment tool
Keywords: Digital Transformation, Customer Journey, Customer Experience, Touchpoints, Omnichannel, ROPO, reserve in store.