According to Kotler (apud Tybout and Calkins, 2006), "branding is much more than naming an offer. It means making a promise to customers about how to live an experience in a complete performance level. It means
creating an emotional association between the client and the product, service or business: "brands must
change from 'communications' and 'commodities' to excitement and inspiration."
Brand DNA focuses on brand personality, and building identity from the inside. As Kapferer (2009, p. 122) claims, "identity is not something that can be bolted on: it is nurtured from the brand roots, its heritage, everything that gives its unique authority and legitimacy in a specific territory of values and benefits. It translates to its DNA, the genes of the brand", which by transmitting an identity, like a living being, awakens an emotional response in consumers, through the preconscious amygdala reaction. Once the consumer identifies with the brand personality, the response from his emotional brain will be positive.
"Branding happens through actions rather than words". It's what the brand does rather than what the brand says.
Examples of things that brand do are:
Sponsoring a cultural event;
Providing free tailoring services
Reply to customers on social networks
Greet customers when they enter a shop
Offer omnichannel services like pick-up-instore
Present the collection at a fashion show or online
Offer free returns
Discount products at specific events
Build quality products
Set a reasonable price
By investing in brand identity, the brand strengthens, and the image begins to mirror the identity. Consumers
begin to recognize the brand, its attributes, and its promises, eventually building a relationship of loyalty
with emotional attachment. While difficult to depict in elaborate detail, this identity is manifest through the
five senses: through graphical images and sound, potentially touch, smell, and taste, creating all together an opportunity for a multi-faceted personality
Successful brands "connect with their consumers not simply by meeting their rational needs, but by addressing the emotional context of the need, as well" (Kathman, 2010, p. 107)
A brand is a living entity that is born from a vision and grows by building relationships. A brand must be
cared for in order to maintain an emotional relationship with its consumers, and its personality should radiate through its products and communication.

zenodo.org
Whether you are willing to develop your personal brand or you are an entrepreneur striving to get the spotlight on your product, you will need to follow some basic rules to build a strong brand.

Digital Fashion Academy
In this article you find a comprehensive list of Brand DNA components and brand building canvas to fill out and guide you in the creation of your brand strategy.
What is Brand DNA and why is it import to define it.
What is Brand DNA?
Brand DNA is the identity card of the brand, it contains all the traits that describe the brand and distinguish it from other brands. Like brand values, character, uniqueness, tone of voice, visual elements. If the brand was a person it would contain information such as color of hair and eyes, date of birth, personality.
Why is important to define Brand DNA
Brand DNA is an essential guide for people working for the brand in making the right choices of media selection for advertising, new products to develop, pricing of products, attitude towards customers and selling ceremony. If your brand is inclusive and young you may want adopt a positive attitude across your communications, if your brand is exclusive luxury you way want to have an elevated tone of voice and target only affluent people.
Brand positioning
When we talk about brand DNA we are also talking about the brand positioning on the market. We need to answer two questions: who are our competitors? And how are we different from them? The "Differentiation in marketing means creating specialised products that gain competitive advantage with a particular segment of the market", it's a way to encourage the consumer to choose one brand or product over another in a crowded field.
In the fashion industry the basic rules to position a brand on the market is to look at the price point – high or Low – in relation to the fashion element of the product: is it trendy or classic?
However sometimes the idea we have of a brand as employees or managers is not matching the way customers see the brand or they don't match where the brand would like to be in the positioning chart. See example below of an hypothetical brand.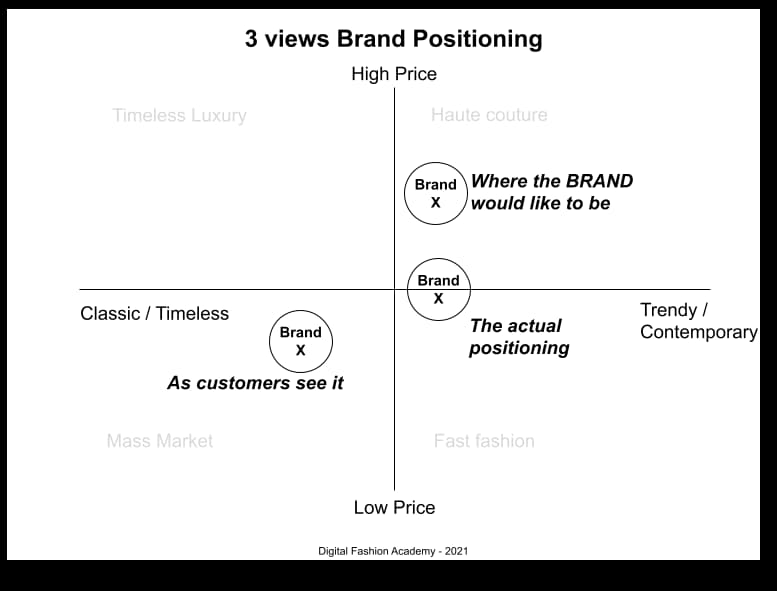 List of elements of Fashion Brand DNA
Products and services
Mission and Vision: how do we provide value to our customers, what we want to be in 5 year.
Brand history
Character of the brand: as if it was a person or an animal: friendly, brave, curious, innovative, serious, etc.
What emotion does the brand convey: Trust, Interest, Confidence
Uniqueness: what makes your brand stand out, e.g. feel properly dressed in every situation from morning to night out at reasonable purchase price; Feel good when you buy because our brand is 0 impact on environment.
What we are not: for a streetwear brand > we are not fashion addicted, we are not luxury, we are not mainstream.
Brand values: respect, integrity, environment
Tone of voice: formal or informal
Colours and typography: main colors and secondary colors, logotype font, web font e.g. serif or sans.
You will have to be faithful to your DNA in every action you take in your company, this could be the most difficult part.
Let's go!
First and foremost we talk about a product or a service and about a company i.e. an organization that communicates to the world to tell people how good is their products or services and why people should buy them.
Complete and fill in all the boxes to have your brand's DNA
We are emotional people who make irrational decisions

Patrick Renvoise from Salesbrain.com
https://www.sidehustlenation.com/neuromarketing/

Summary: Mission and Vision
Animal instinct: we have to appeal to the irrational being that makes decisions based on what we desire or fear. Then our brains works out the rationals for the decision.
That's why to be effective you need to address a painpoint, clearly present uniqueness, communicate an emotion that is shared by your ideal customer.
Answer the 5Ws Who we are, What we do, Why we are here, Where we come from, When did we start.
Figure out what is your brand character, if it was an animal which animal would be. Check out some animals characters pages if you don't have any idea about what characters animals have

"Our mission statement is to make the best product, but do it with no unnecessary harm and use business to implement solutions to the environmental crisis."

Patagonia
Work on your avatar clients, also called personas, they represent your ideal clients, create 2 or 3 different types.

Tone of voice, how do you speak to your clients? Are you formal or more friendly?
Brand keywords that represent your brand and negative keywords that you don't want your brand to be associated with.

Brand DNA Tools
In order to graphically represent the Brand DNA established, a mood board enables a visualisation of the concepts present in the company's genome
Brand Book
The brand book is a manual of the brand that contains all the essential information about the brand. It should be accessible to all employees but sometimes it's not shared with all employees for confidentiality reasons.
Brand Moodboard
The brand moodboard is a visual representation of the brand memes, aspirational images, colours and products. It sometimes refers to images and icons from Cinema, from 1960′ or 1970′ to refer to the heritage of the brand or the aspirational values e.g. authenticity. It should include an ideal representation of the target customer "personas" and the brand character traits.
Prada Brand History
Prada was founded in Milan in 1913 by Mario Prada, Miuccia Prada's grandfather.
Located in the prestigious Galleria Vittorio Emanuele II, symbol of Milan, Prada was an exclusive and refined shop that sold travel items and accessories made of luxurious materials, using sophisticated techniques.
Soon the shop in Galleria Vittorio Emanuele II became a favorite destination of the aristocracy and of the most refined and elegant exponents of the European high bourgeoisie. In 1919 he received the license of Official Supplier of the Italian Royal House, so as to adorn his brand with the coat of arms and knots of the Savoy royal house.
Animal symbols in fashion brands logo
Did you notice the eagle in the center of Emporio Armani Logo? Giorgio Armani told the story of the eagle when they invented the Emporio Armani logo. Giorgio wanted a symbol of ambition. He asked himself and his partner "which animal flies high?"
Lacoste S.A. Lacoste S.A. is a French company, founded in 1933 by tennis player René Lacoste, and entrepreneur André Gillier. … René Lacoste, the company's founder, was nicknamed "the Crocodile" by fans because of his tenacity on the tennis court.
The web era of luxury brands
"Less is more" Mies Van Der Rohe was to say in the first half of the XX as the world of design was facing the challenges of Functionality, Pragamatism and Design. In the web era, the Designers face another challenge: small digital screens. How can we communicate effectively on these devices? Reducing the decorations on the logos and making them bolder was the answer. See below what happened around the second decade of the XXI century, more or less between 2010 and 2020.
The branding process

zenodo.org