Since the beginning of the pandemic crisis Fashion companies have started to focuse their efforts on developing the only channel that is growing and is able to deliver profitability at this moment: the e-commerce.
A further step in this direction is also been taken to push fashion companies towards becoming more competitive in the Digital Market, this approach, is called digital first and requires all the functions, digital and not, within the organisation to learn about digital and e-commerce and to redirect their effort to increase the share of online sales and the digital competitive capabilities.
In this article we explore the channels and the strategies that fashion companies can adopt to stay aflot or even improve their position in this particular moment.
Fashion E-commerce Value Chain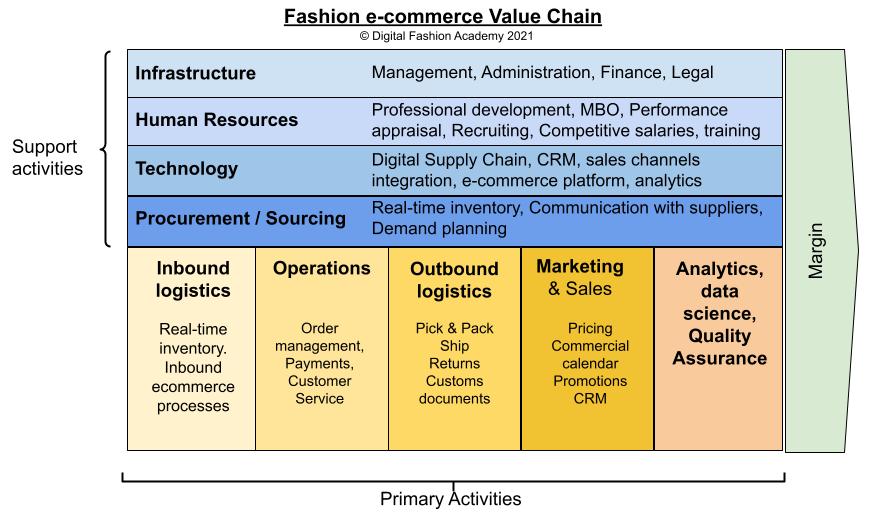 E-commerce channels and business models
The digital transformation that was ongoing before the crisis and has now being accelerated, entails the rethinking of supply chain processes, sales strategy and distribution channels. The e-commerce channel has seen growth rate at triple digits during the first half of 2020, department stores that used to drive revenues mainly from Bricks & Mortar stores, are now driving the majority of sales through the digital channels.
Fashion brands can choose from a large variety of digital channels, each channel offers different benefits and requires different approaches of integration that can meet the needs of each brand. Every channel has some specific characteristics in terms of profitability and simplicity to manage.
Here below the most utilised e-commerce channels in the fashion and luxury business.
Owned channels: direct ecommerce
E-tailers: indirect ecommerce
Marketplaces: drop shipping
Off Price market places: outlets online
Off Price flash sales: shopping events
Exotic markets: cross border outsourcing
Media channels: affiliation – syndication
Online to offline: drive to store
Offline to online: personal shopping, showrooming
Loyalty plans: repeat purchases incentives
Social shopping: organic and paid
Native mobile app
Direct e-commerce channel
The direct ecommerce of the brand, i.e. www.brandname.com it's potentially the most profitable channel for the company, but it's also the most difficult to manage. It's easy to make mistakes if you don't have the right skills and experience to set it up and manage it. This means it can go from potentially the most profitable channel to not profitable at all. However Fashion brands don't necessarily do every e-commerce activity in house, some activities for example the shipping, are outsourced to third parties, i.e. supplier like DHL or UPS who carry out this activity. The same usually happens for the logistics warehouse or the first level customer service. Fashion companies outsources some e-commerce activities either to reduce the risk of creating to bigger structure in house that will create additional fix costs or to benefit from the competences acquired by outsourcers in a specific sector. An example is when Fashion brands engage a supplier specialised in Customer Service for Fashion Ecommerce to handle all the requests from the customers. By hiring a company who is specialised in the service, the fashion brands avoid adding fixed costs and leverage the experience of the outsourcer with other brands and the many of cases already managed by the supplier.
Ecommerce with fashion e-tailers
It's easy enough selling to an e-tailer as you would do with an offline customer, but there are some disadvantages:
you sell at wholesale price which is less than half of the retail price, i.e. the price you would sell on your B2C ecommerce site and
you don't have control on the price or other factors that can influence your brand image and your performance on other channels. For example an e-tailer can compete with you on Google Ads by bidding on the same keywords causing an increase in your digital marketing costs and potentially less traffic to your site if the e-tailer is particularly aggressive and it bid to have the first position on google search result page SERP.
Fashion Marketplaces
Fashion Marketplaces like Zalando and many others, allow fashion brands to sell their products on their platform, gaining visibility from the high volume of visitors these platforms have and allow fashion brands to have more control on price and image. In order to be successful on these platforms fashion brands need to meet some requirements:
Brand awareness: the brand has to be notorious or it will require several advertising investment to get visibility on the marketplace
Effective logistics: market places require the brands' logistics to meet their standards in product delivery
Platform integration: you need your ecommerce platform and or other systems like a Product Information Management system (PIM) to be able to export data feed towards the marketplace
Other examples of marketplaces are Farfetch which became famous for aggregating the offer of the best fashion boutiques in the world. However nowadays most department stores offer their suppliers (the brands) the possibility to work with them as a marketplace. Of course these departments store have implemented an ecommerce platform that allows them to integrate with their suppliers.
Off Season marketplaces
The same marketplaces offer the possibility to sell online discounted products from the old seasons. Privalia is an example of these off price marketplaces. The marketplace will ask you a fee, a percentage of your sales to pay them for the visibility they give you. Fees may range from 10% to 30%.
Off price flash sales
Flash sales online are a great way to get rid of the stock that many fashion brands have left in the warehouse at the end of the season. Flash sales companies like Vente-Privée have millions of subscribers and when they send out a DEM Direct Email Marketing communication to their mailing list they can move significant amount of sales. Considered that the average price is much lower than full price, i.e. the discount is generally between 60% and 70%, also the volumes of merchandise they manage to sell is impressive.
The downside is that they take a considerable percentage of the sales as their fee.
Cross border ecommerce
A different approach to direct ecommerce, which focuses on markets that are phisically far and also culturally very different from us, consists in using an ecommerce service provider to build for us an ecommerce platform that is optimized for a specific market and then also manage most of the ecommerce operations to market the ecommerce and manage the ecommerce store in our place.
For example, if in your company there isn't a single person who speaks arabic and knows the arabic culture you may decide not to develop your ecommerce channel directly but to engage a specialized provider and give them a percentage of your sales to pay for their services. Paying them a percentage of the sales is also a good way to motivate them to perform and push sales as the more they sell the more they earn.
Affiliation sites for fashion
Affiliation websites allow you to increase the visibility of your products by publishing them on the editor website. Visitors of the affiliation websites have a feeling of an editorial site, like a fashion magazine online, where the content is curated and relevant, however the majority of the content on the website is sponsored by fashion brands. Affiliate programs are considered part of the performance marketing campaigns. Fashion brands usually pay per conversion, in other words you only have a cost if you sell thanks to the visibility they give you.
Online to Offline – drive to store
We know that many people still prefer to try on their outfits before buying them, some people aren't confident with ecommerce solutions and some others simply don't want to be bothered with couriers of returns of ecommerce purchases. That's why a majority of people still buy in bricks and mortar stores. If you have many physical points of sale you also want them to be profitable and therefore you want people to visit them.
After the Covid-19 pandemic the integration between online and offline has become even more important and IT solutions that allow customer to reserve products in store, pick up in store (BOPIS) and book appointments in store are becoming even more relevant.
Loyalty plans
Loyalty plans for fashion brands are usually pretty simple, however they are not so common as they are open perceived as too popular or too mass market. On the other hand loyalty programs allow fashion brands to collect more personal information about their customers and target them with personalized messages. The easiest thing to do is to send a greeting message for the birthday of a client accompanied by a discount on her/his next order, it is as simple as it is effective.
Other types of incentive plans can involve cool experiences, participation in fashion events, access to collection preview, access to exclusive products that can only be purchased if you are a member of the loyalty program.