When we talk about e-commerce platforms in the fashion industry we generally talk about Adobe Commerce, Salesforce commerce cloud (SFCC), Shopify and other platforms, but what we need is a system to manage product catalogs, the check-out process and the order management. In practical terms this means that we need to manage several flows of data: product descriptions, photos, prices; stock available, orders and returns, payments and refunds.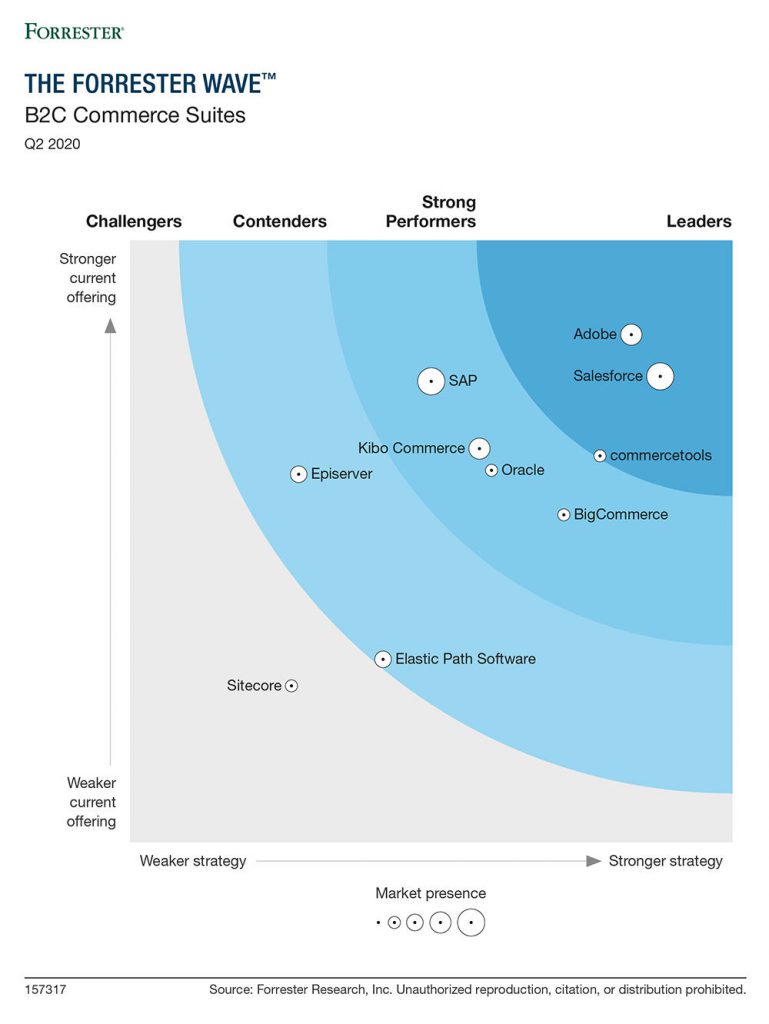 Implement a high converting ecommerce
Set up a scalable infrastructure
Have a positive ROI and Ecommerce P&L
Compare platforms features and capabilities
What is an e-commerce platform?
An e-commerce platform is a generally considered as web application that is able to manage an online catalog and process ecommerce orders. However an ecommerce architecture is more articulate than that. The needs of fashion brands extends beyond the capabilities of the majority of e-commerce platforms available on the market. As a consequence it's not sufficient for fashion brands to set-up an e-commerce platform but it will be necessary to add third party components to implement all the digital features that a fashion brand requires.
How to choose the e-commerce platform
Choosing the e-commerce solution goes beyond the e-commerce platform itself, it entail and entire range of software products that you may need to integrate with the ecommerce platform, however in the initial stages of the Maturity Model, an e-commerce platform should be able to meet the essential needs.

Digital Fashion Academy
Ecommerce is essentially a technology-driven business. Many key success factors like site speed, site capacity, search performance, search engine optimization, depend on the technology chosen and how it has been implemented.
However the e-commerce platform is only one of the several components of an e-commerce ecosystem. The ecommerce e-cosystem can comprehend several different systems that play a specif role in the e-commerce business:Product Information Management system (PIM), Order Management System, Content Distribution Network (CDN) and many others.
As a consequence the success of the ecommerce is also determined by the availability of technological skills in e-commerce team and in the company.
Based on the list of functionalities and processes that your company needs to manage by mean of the e-commerce platform you'll match those needs with the capabilities of the various e-commerce platforms available on the market an make a decision. Let's for example take this fictitious company that needs an e-commerce platform:
| | |
| --- | --- |
| Process | Solution |
| Catalog management | E-commerce platform receives data from Product Information Management System (PIM) or from Excel Files in CSV format |
| Check out | E-commerce platform |
| Payments | Payment Service Provider integrated into the Ecommerce Check Out |
| Stock management | The Ecommerce platform receives the initial stock from Enterprise Resource Planner (ERP). Also the returns are processed at warehouse and sent to Ecommerce to increase the quantity available. |
| Order Management | Enterprise Resource Planner (ERP) or Order Management System (OMS) |
| Outbound logistics Pick, Pack and | Warehouse Management System (WMS) |
| Customer service | Third party CRM |
| Full Text Site Search | Ecommerce platform |
| Experience personalisation | Third party application |
Table 1 – Ecommerce Processes and Platforms mapping. (c) Digital Fashion Academy 2020
As we can see in the table 1, this hypothetical company needs to manage some e-commerce processes via the e-commerce platform but not all of them. In particular we notice that the e-commerce products stock and e-commerce orders will be managed via the company's ERP.
When choosing the e-commerce platform from the ones available on the market you will need to match these processes to the capabilities of the e-commerce platform.
You will also need to make sure that, if such capabilities are available in the e-commerce platform, they are also suitable for your specific requirements and processes or they can be customised to meet your requirements.
The requirements can also be determined by fiscal and legal requirements of the country where you operate the ecommerce business from. Therefore this step is particularly important.
Finally you will need to check the cost of the platform in relation to the e-commerce business you need to manage.
Key Success Factors of E-commerce Platforms
Performance and scalability
Capabilities and features available and to be developed
Interoperability: possibility to integrate with third party solutions, e.g. API
Easy of customisation and use
There are several solutions available on the market to set up an ecommerce website, you can choose one of the many content management systems (CMS) and ecommerce platforms. Some of them are easy to use and can be set up in a short time while other ecommerce solutions require more work and customization, and may require the help of a system integrator to help set it up and integrate it with your company information systems.
Top 10 E-commerce Platforms for Fashion 2022
---
Platform
Description
Cost
Adobe Commerce Cloud
It's a complete solution for e-commerce that includes product and content management, check-out and a simple order management system. Allow omnichannel features such as multi-stock location. Requires programming skills to set-up and support.

Adobe Commerce (Magento) > 7 For All Mankind, Canali, Terranova, Zadig & Voltaire, Aldo, Omega,


Medium
Salesforce Commerce Cloud
It's a solution for e-commerce with checkout and front-end, but it lacks a part of content management, product management and order management.

Salesforce Commerce Cloud fashion clients: Puma, Brunello Cucinelli, Quiksilver, Boggi Milano, Woolrich, Rag & Bone, Forever21, Patagonia, Fossil, Wrangler, Pandora, Puma, Guess,
High
Vtex
It's a relatively new solution on the marketing with native omnichannel functionality, front end
Low
Shopify
It a complete e-commerce solution with no possibility to access the source code to make customizations. All the customizations are done through configuration or by using the API to build your own front end. It's most suitable for USA market, as it doesn't have multi market or multi language capability in the default configuration.
Shopify > Rebecca Minkoff, Seve Madden, Volcom.com
Low-medium
Commerce Layer
It's a flexible platform with multi-market, multi-stock, multi-language capabilities. It requires programming and design skills to set up the front-end. It requires a content management system and a Product Information Management System.
Commerce layer clients: Chilly's, Au Depart,
Medium
Commerce Tools
Details will be added soon
Commerce Tools > High Snobiety, Paige,
SAP
Details will be added soon
Big Commerce
BigCommerce > Clarks,
E-commerce platforms comparison
To compare several e-commerce platforms in order to understand which one meets your needs better you need to take into consideration the following comparative factors:
Completeness of the solution
Development work required
Digital maturity of the e-commerce in the company
E-commerce platform costing model
Geographic extension of the market
Omnichannel needs
IT Ecosystems
Internal organization capabilities
Availability of external partners
Compare Adobe Commerce vs Shopify Plus
You can find here below a comparison table between Adobe Commerce and Shopify Plus
Shopify Plus pros



More affordable – While the baseline price of Shopify Plus is comparable to Magento 2 Commerce, there are fewer extra costs of running a shop on the platform.

Web hosting is included – Shopify's server is included in the price, so you don't need to pay to host your website on your own server, or Ark Server, or worry about maintaining it during a surge.

Easy launch and updates – The process of launching a Shopify Plus eCommerce shop is smooth and swift, and "future-proof" software means that new features and updates are compatible with your shop without the need to alter any code

Adobe Commerce (Magento 2) pros


More customizable – Magento Commerce 2 users have more control over the look and function of their shops with the ability to change their websites' base code.

Better for multiple shops and B2B – You can use the same inventory catalog across multiple shops, which is especially useful for B2B businesses who need to offer different prices for wholesale.

No transaction fee – No matter which payment processor you use, you won't have to pay a fee using this software.

Shopify Plus pros


Less customization – You cannot alter the base code and any custom features must be integrated using apps.

One catalog per shop – Shopify Plus allows you up to 10 different eCommerce web shops (and more with a fee), however, it does not allow you to use the same catalog for different domains.

Third-party payment fee – If you want to use a payment processor other than Shopify Payments, you can easily integrate it but will need to pay a 0.15% fee per transaction
Adobe Commerce (Magento 2) cons
More hidden costs – The price of Magento Commerce 2 software only includes the software itself. Users need to find their own server to host their website, and IT/developers to create and maintain it.

Requires more upkeep – With each update to the software, you will need a skilled developer to ensure that your store is still compatible.

Fewer app integrations – The options for app integrations are not as robust as they are for Shopify Plus users, especially when it comes to custom apps.

Quoted and adapted from DataFeedWatch
Magento pricing excludes more hidden costs in general, however, unlike Shopify Plus there is no transaction fee for payment processing, regardless of which service you use. That being said, the total cost of ownership for a Magento shop is almost always higher than Shopify Plus, but you are paying for flexibility and customization capabilities.
E-commerce platforms for China?
If you have never done e-commerce in China you need to get ready to change your expectations. The majority of the e-commerce sales in China are made on local social networks and marketplaces like WeChat, T-mall, JingDong. The brand's own e-commerce it's mainly a marketing tool to improve the brand image. Even Amazon is not particularly relevant in China and even Google is not used much. What you will need is an agency that is an official technical partner of T-mall to set-up your shop on this marketplace and then you will need to develop your own web shop within WeChat that is the mobile application used by 90% of Chinese.
Why an e-commerce platform is not enough for fashion e-commerce?
E-commerce solutions available on the market, for example Magento Cloud, Shopify or Salesforce Commerce Cloud, they all provide great solutions for selling products, but they may not be able to address other needs of fashion companies like managing product information, omnichannel integration, managing digital marketing activities from social network integration to customer relationship management.
In order to meet their needs Fashion companies need to buy a number of third party solutions that need to be integrated with the ecommerce platform, for example a Product Information Management solution to manage product data, Digital Asset Management solution for managing images, a web analytics platform to track performance and statistics and potentially many others depending on the maturity of the ecommerce business. The more mature is the ecommerce of a fashion company the larger is the number of third party solutions needed.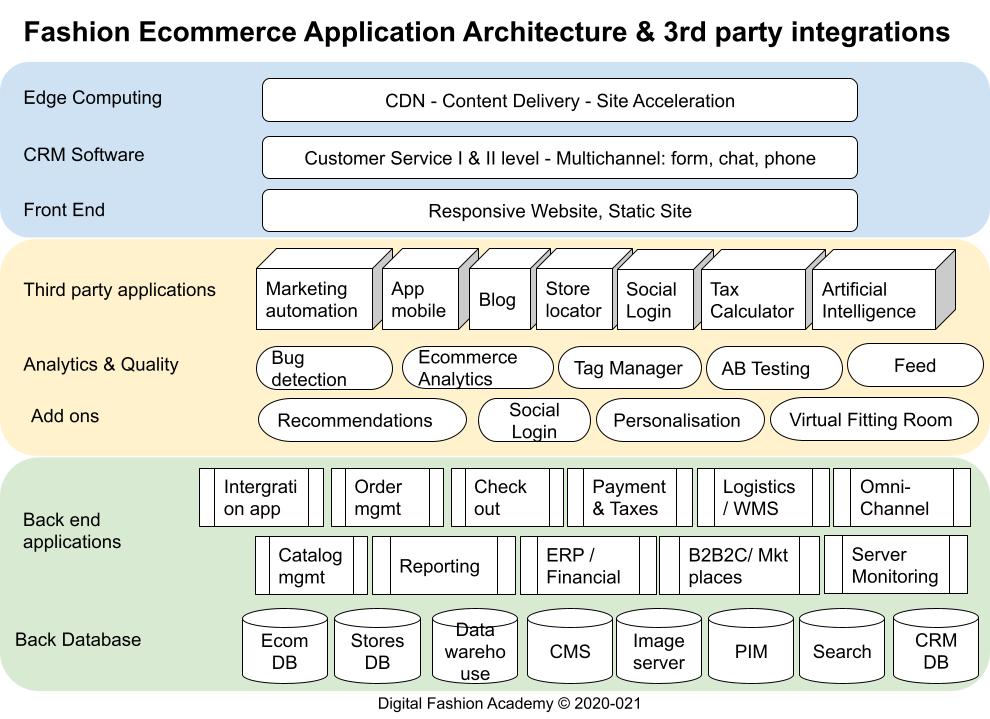 An e-commerce platform is a part of an e-commerce IT architecture that entails:
– Product & Content Management
– Connectivity and Content Distribution;
– Stock & Orders Management;
– Check out & Payments;
– User data management;
– Web and Mobile apps;
– Web analytics
An e-commerce platform can be customised or configured to match the look and feel of the fashion brand that uses it.
An e-commerce platform can be sold together with the server processing power and the connectivity necessary to serve the volume of traffic and transactions of a specific brand. For the purpose of this post let's
What does a fashion brand need from an e-commerce platform?
The essential function of an e-commerce platform is to manage an online transaction, in other words to the acceptance of payment for a product that is in stock and will be delivered to the customer.
In order to do that the ecommerce platform needs to manage some data flow:
Product information
Product price
Products stock availability
Check out process
Order and return status
Invoice and credit notes
Payment & Refunds
These are the essential data flow to be managed via an e-commerce platform, however we will see later that these data flows can be managed by third party applications that are outside the e-commerce platform. For example the product information can be managed by means of a Product Information Management (PIM) system or a Content Management System.
Ecommerce platform in SAAS
In order to solve the problems related to managing the server and connectivity, scalability and capacity issues, the majority of the ecommerce platforms available on the market like Salesforce Commerce Cloud and Adobe Magento Cloud can be used by fashion companies directly from the cloud. In this case the ecommerce platform is available to the brand as an online service, hence the definition of Software As A Service or Platform As A Service.
This seems to be the direction where the fashion ecommerce market is going and the preferred solution of fashion companies.
Other ecommerce platforms in Cloud are Shopify Plus, Commerce Tools, Commerce Layer.
Fashion ecommerce ecosystem architecture and integrations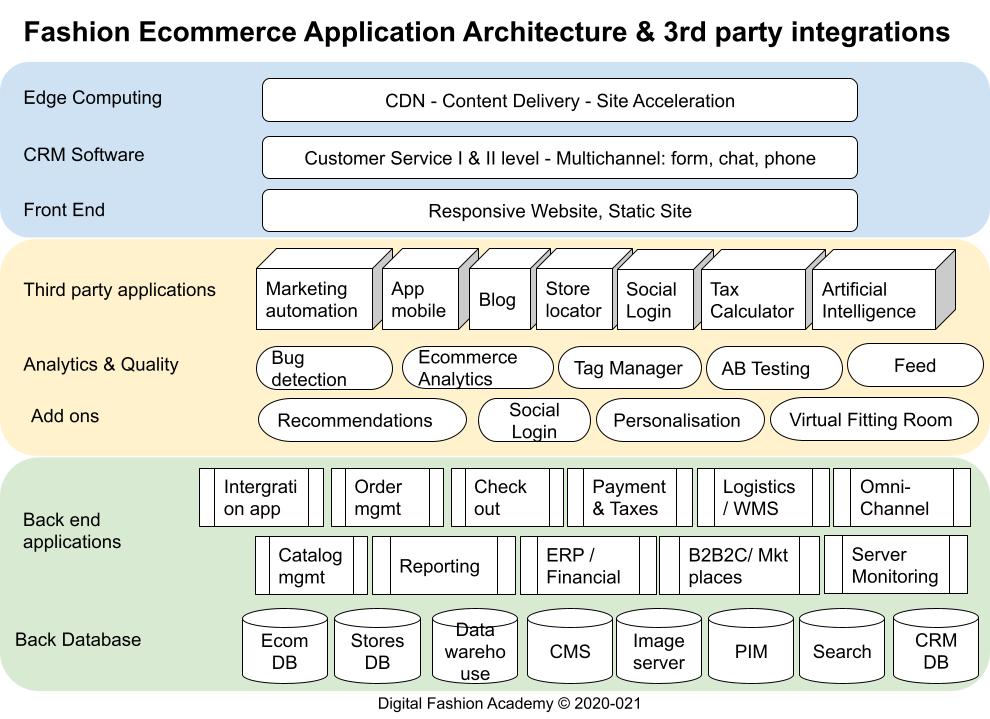 Fashion Marketplaces
Fashion Marketplaces like Zalando and many others, allow fashion brands to sell their products on their platform, gaining visibility from the high volume of visitors these platforms have and allow fashion brands to have more control on price and image. In order to be successful on these platforms fashion brands need to meet some requirements:
Brand awareness: the brand has to be notorious or it will require several advertising investment to get visibility on the marketplace
Effective logistics: market places require the brands' logistics to meet their standards in product delivery
Platform integration: you need your ecommerce platform and or other systems like a Product Information Management system (PIM) to be able to export data feed towards the marketplace
Other examples of marketplaces are Farfetch which became famous for aggregating the offer of the best fashion boutiques in the world. However nowadays most department stores offer their suppliers (the brands) the possibility to work with them as a marketplace. Of course these department stores have implemented an ecommerce platform that allows them to integrate with their suppliers.
Where is the ecommerce platforms market going?
Let's consider for a minute the below scenario. In 9 years the number of solutions available on the market for ecommerce and digital marketing has rown from 150 to 8.000. In this scenario it is clear that the interoperability, by which we mean the possibility to use these platforms combined with each others, it is key for the success of the brand's ecommerce business and the success of the solution itself. So how do we integrate these solutions?
There are three main approaches to integrate solutions:
API Based, which means that the software is open to requests in input and output from other applications. Ecommerce platforms that are API based are CommerceTools and CommerceLayer
Plug-ins, the 3rd party develop plug-in for each specific platform: Salesforce Commerce Cloud and Magento support this approach, but they also have some APIs that can be used for integration.
Code injection, a piece of code from the 3rd party is injected into the ecommerce website to integrate the 3rd party function into the destination website
E-commerce platforms simply explained, an analogy
An e-commerce platform is like a car.
You can choose the best car available on the market, park it on the side of the street and leave it. You can be sure that in time you will have achieved to get one or more fines, some scratches and you'll have gotten no value whatsoever out of it.

Digital Fashion Academy
On the other end you can buy a car use it every day to go to work, put petrol in, maybe spend more that using the public transport, but you will enjoy driving it, listing to music or the radio while you drive and get to work on time most of the days.
Before you buy a car you need to choose the model that is suitable for your needs and the configuration, which means selecting the optionals that are necessary for the use you need to make of it. Every time I look at cars' website I'm put off from buying by the fact that, in order to get the configuration I want, the price is usually the double of the advertised price. How is that?
Ecommerce platforms like cars come without many features that are very useful and they are not included in the package, for example they may not have an omnichannel order management system, they may not have Product Information Management system, the integration with Google Analytics or the possibility to export feeds of products and orders towards third party applications like Google Shopping.
Once you have chosen all the optionals that you think you will need, you place the order for the car that will take from 6 months to a year to be delivered. Here the difference between buying a car and setting up an ecommerce platform is that, while the car will be delivered as expected in the majority of cases by the seller, in the case of the ecommerce platform you will have to coordinate the configuration and integration work.
The last two points of the analogy are "driving the car" and "Maintenance".
Steering the wheel of the e-commerce platform
I have never driven a formula 1 car, but everyone says that is not that easy. I believe it.

Digital Fashion Academy
What happens when you put on the engine of your new car and press the accelerator? Do ecommerce platform have accelerators? The answer is yes. Like the cars use petrol or gasoline to run for miles and miles, e-commerce platforms can burn marketing money to acquire traffic that will convert into leads and then into sales. The further you want to go the higher is the marketing spend necessary to achieve the goals.
What happens if you take the wrong road? If you are in a car, two things can happen, you may need to refill the tank and you will get to your destination later than planned. Translated into e-commerce management terms, this means that you may have spent your marketing budget on the wrong channel or advertising campaign and you didn't get the results expected. For this reason you may have to allocate more money to achieve the results expected and achieving them later than expected. For more insights on managing an ecommerce check out the ecommerce team organisation resources.
The last point of the analogy regards the maintenance, this is straightforward, but if it happened to you in the past to have missed the annual check of the car you know that the consequences can be hefty. At some point during the business as usual some things may start to break. At the beginning you might noticed just a slow down in the performance without a complete halt of the operations. In time the performance may deteriorate further and eventually something essential will break and you will have to stop for repair. The ecommerce machine works in the same way, you need assign skilled resources to check the health of the platform periodically and allocate budget to perform the maintenance of the platform.
What are the best platforms for Fashion E-Commerce?
Salesforce Commerce Cloud > Puma, Brunello Cucinelli, Quiksilver, Boggi Milano, Woolrich, Rag & Bone, Forever21, Patagonia, Fossil, Wrangler, Pandora, Puma, Guess,
Adobe Commerce (Magento) > 7 For All Mankind, Canali, Terranova, Zadig & Voltaire, Aldo, Assos
Commerce Tools > High Snobiety, Paige,
BigCommerce > Clarks,
Shopify > Rebecca Minkoff, Seve Madden, Volcom.com
Shopware > Salewa, Mac-Jeans
What are the emerging e-commerce platforms?
Shopify has become very popular thanks to the simplicity of its configuration
V-Tex is becoming widely known thanks to it's omnichannel approach
Commerce Layer is an headless commerce platform that is becoming popular among developers
What are the benefits of a Content Delivery Network?
The CDN has 3 essential benefits:
– Improve site speed > user experience and conversion rate
– Improves security > the main server is less exposed
– Reduces the possibility of down time due to cyber attacks
How to find which platform are using your competitors
You can find out which platforms and other information about most of the websites using an add-on for Google Chrome called Built With. It's free. To install it open google chrome > go to settings > Extensions > search built with.
Note: some websites make this information not accessible.
You may also be interested in
Ecommerce platforms for Fashion